A while ago I promised to host a virtual Tea Party for all my Blog Friends.
I think it is a good day to do it today. It seems that all of America is celebrating the results of the elections. I am not into politics, and the most support our president got from my almost 5 year old son, who seemed to genuinely care about the process and kept me updated.

So on this slightly chilly New York morning, I would like to offer a cup of warm tea to all the ones that stop by my blog today. Sit down and grab a cup that you like the best. You can also pick the teapot you like...I personally prefer green tea with jasmine, but I also have some chamomile tea, and black tea with strawberry jam. All of them are freshly brewed and ready to be enjoyed.
I personally adore the pottery by the
MonsterOpMaat,
this cup resembles one of the animations that I had here--worms and love:)
And one day when I am rich and famous I will get myself one of these
In our Slavic tradition, tea is a symbol of being hospitable. Tea is offered to anyone who stops by your house. For more than 250 years, the
samovar
has occupied an honoured place in Russian homes as the centrepiece of the table, around which life revolved. It remains most stable attribute of domestic coziness. Step by step a peculiar ritual of tea-drinking emerged and was adopted in every Russian homes. Drinking tea from the samovar was a way of life. I need one of those as well, told you I can not be a snail:)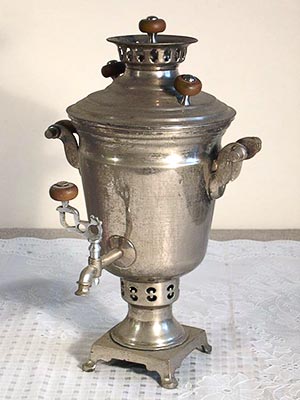 Here in US, tea is viewed more like a "girly" thing. Little girls traditionally have tea parties, and until recently I did not realize it. My little girl is growing up with a mix of the two, she has tea parties with our cat when the boys are away and I am doing my computer work. So please, join in!